Metamorphosis of Bhuvneshwar Kumar
Since the start of 2016, India have played 21 Tests spread across seven series till the Kolkata Test against Sri Lanka that ended on Monday. In that period, Bhuvneshwar Kumar has been part of only 1/3rd of those battles.
Yet, despite the fast bowler being in and out of the Test set-up over the last couple of years, he has managed to make people sit up and take notice whenever he has been given a place in the playing XI.
India's previous Test against Sri Lanka in Kolkata gives ample proof of that.
On a pitch as un-Indian as one could find in India, Bhuvi overshadowed his other two more experienced and illustrious Test bowlers – Mohammed Shami and Umesh Yadav – to return with eight wickets.
His efforts of 11-8-8-4 in the second innings, particularly, gave the hosts a sniff at victory, also earning him the man of the match award in yet another of his comeback games.
The 27-year-old's resurgence as a Test bowler has been a huge factor in India's pace attack being what it is now: one of the best, if not the best, in the last decade.
Add Bhuvi's swing to Shami's incisiveness and Yadav's raw pace, and you have an Indian fast bowling attack with a heady mixture to excel in any conditions. Mind you, there's also Ishant Sharma as the back-up bowler, Hardik Pandya as the fast bowling all-rounder and Jasprit Bumrah as a worthy Test aspirant.
However, take the Meerut lad out of this pack, and Virat Kohli would be struggling to find a bowler who has the ability to extract every inch out of the pitch and overhead conditions in terms of seam and swing, whenever on offer.
And with India already having one eye on the tour of South Africa early next year, Bhuvi's evolution as a Test bowler must be music to the team management's ears.
"I think Bhuvi is transforming into becoming the leader of the pack," said TA Sekar, former India fast bowler.
"He has become the go-to man for Virat Kohli in Test matches, like we saw in Kolkata. This match will give Bhuvi a lot of confidence, because the South African wickets are going to have similar help on the wicket. He will be the bowler to watch out for there," he added.
From being the guy who was seen as a back-up Test bowler not too long ago to one who is marshalling India's bowling attack across all formats, Bhuvneshwar's transformation has been exceptional.
Sekar, a renowned fast bowling coach who has been associated with the MRF Pace Foundation in Chennai, explains the factors behind it.
"He has become a bit more stronger, which is why he is hitting the deck that much harder. He has also improved his pace from 127kmph to 132-135kmph, at times touching 137kmph. So, anybody who bowls around 135kmph and gets the ball to swing around is going to be very difficult for the batsmen to play," he said.
It's not all about speed off the hand, though.
"If you look at Bhuvi's technique, it is quite good. His release point is fantastic. He has an upright seam, and he has increased the speed of his run up. Bhuvi is basically a semi-open to front-on bowler. And so because he runs in a bit faster, goes through the crease faster, it increases his speed.
"So actually, his overall speed has increased because he has increased the speed of his run up. That he has become a bit stronger also helps. But more so, his technique has become sounder. Fast bowlers refine over a period of time, as they bowl more, get more wickets, more confidence," Sekar said.
That's exactly what has happened with Bhuvi. Of the three Test bowlers, he is the only one who also plays ODIs and T20Is on a consistent basis for India, which is making him bowl a lot more deliveries.
And unlike many fast bowlers in the past, he has ensured that he doesn't lose his most potent weapon – swing – in that refining process.
"Bhuvi is not trying to bowl 140kmph-plus. If you see, his improvement of pace is only around 5-7kmph. So, it is a not a great improvement of speed. But, for his swing, that 135kmph-plus is really lethal, because it gives the batsmen less time to react and play. Bhuvi knows his limitations, and he should not go overboard," Sekar said.
He surely knew his limitations as well as the aspects he needed to get better at.
"When I made my debut, I was totally dependent on swing. International circuit tells you what you need to improve on. I worked hard on my fitness and that is paying off," Bhuvneshwar said after the Kolkata Test.
Captain Kohli, too, realises the value of Bhuvi in his bowling armoury looking ahead to overseas tours next year.
"His bowling has picked up pace, his ball is heavier than what it used to be," Kohli said on Monday. "He grabs his chances every time he comes into the team. He's a massive contender to start in every Test for India. He will be a vital part of our plans, especially overseas."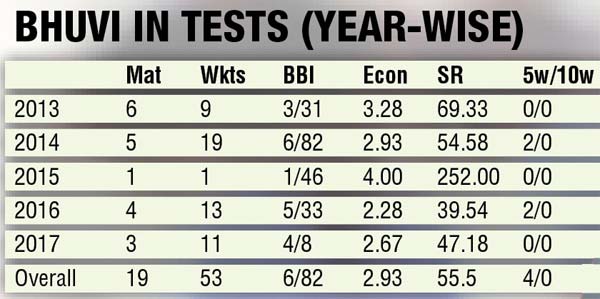 'BEST FAST BOWLING UNIT SINCE 2000-08'
Former India fast bowler TA Sekar believes this group of fast bowlers is the best India has seen in a decade. "Since 2000-2008, when we had Zaheer Khan, Ashish Nehra, Irfan Pathan and some others in the Indian team, we haven't had four-five quality fast bowlers all at once. But we're seeing that now, with Bhuvneshwar, Shami, Umesh, Ishant and Hardik. And with Bumrah also being at the back end, India has got a very potent bowling force," Sekar said. The renowned fast bowling coach also believes that this unit has the capability of doing well in India's next series against South Africa at their den. "The performance in the Kolkata Test is going to really give a lot of confidence to the pacers, also playing on such kind of wickets. If they continue bowling like this, I think this group will do well in South Africa, and it will be a great series to watch."
Source by dnaindia..
Share: